Pajamas, cookies, hot-chocolate, bells, and one very special train...
Sounds like a Polar Express Party to me. Actually, make that three Polar Express Parties.
First up, Wyatt's 1st grade Christmas party: Any room mothers out there? This is the way to go. It was a very fun, very easy party and the kids loved it. They wore PJ's and brought their favorite stuffed animals and anxiously curled up for the reading of the magical story itself...
Then they discovered what the elves left on their desks...
Aren't those hot-chocolate-stirring-marshmallow-candy-cane-things adorable? Some amazing mom sent me those, don't you just love people like that? I do, and even though I question my sanity every single class party, it's always so worth it in the end. Lugging a ginormous much-too-heavy-for-my-weak-sauce-arms tub of hot chocolate across the parking lot, down the halls, and into the classroom did get a little messy, but the look on Wyatt's face was worth it, burns and all.
After their treats they snuggled up with some popcorn to watch the movie. They may have had a slight sugar high, but they were happy and really, that's all that matters.
A few days later, it was Cole and Macie's turn to flaunt their PJ's at school.
This time, I enjoyed letting the teachers put on the party and had lots of fun creating some Christmas-y pigtails...
They had such a fun day "riding on the train" and were thrilled with the party favors...
We have had many many Polar Express Parties over the years and I couldn't resist sharing this photo of our very first one...
John even made some amazingly authentic ticket-invites and stood at the door to punch them as the children arrived...he is a good daddy.
*Note: I wrote this post a few days ago and have been hesitant to share it in light of what happened at Sandy Hook Elementary. It felt wrong of me to share these happy-school-activities when so many are suffering so greatly. However, I realized that these are exactly the kind of moments we need to celebrate and cherish. I have written and re-written my thoughts about the tragic event over and over. I simply do not feel qualified and cannot seem to find the words to properly pay tribute or express my sorrow deeply enough. All I can say is I am so very sad.
I have learned an important lesson this week: It's okay that my children leave their toys all over the house, sometimes even causing near-fatal-stairway-accidents...it's okay that a cup of milk is spilled at least twice a day in our house...it's okay that they broke my most favorite Lladro ever, the Bride and Groom my love sent to me from Spain...it's okay that they rarely actually make it in the toilet...it's okay that they never listen the first time or even the second...it's okay that they have colored on nearly every piece of furniture we own and it's certainly okay that we are awoken every night, without fail, due to a bad dream or a seemingly quenchless thirst. None of these silly things matter.
All that matters is they are mine, they are here, and they are loved.
Just because I have been so sad the past few days and also due to my slight obsession with animated gifs, I thought a dancing pajama-clad crazy could bring us all a smile...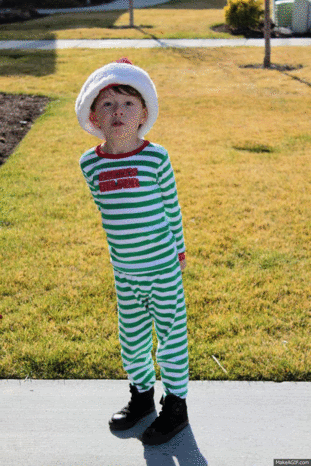 Pajama dancing is always a good thing.